---
Free Netflix Coupons Raffle, every week!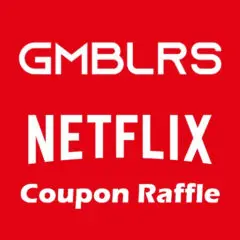 Win a free Netflix coupon!
Sometimes it is great to do something else than hunting Dead or Alive wild lines or wait to see how many goals will be scored in Liverpool's match. We at GMBLRS love movies and Netflix series and that's why we decided to share this love with you. Each week until further notice, we will do a raffle among all active* GMBLRS members for one Netflix coupon code worth £25. Because we want to make sure that those codes go only to active members we have as usual some rules. No big thing but essential to keep it fair!
How to take a part?
Post one (1) or more winning screenshots to our gallery between Monday and Sunday (23:59 GMT)
That's it 🙂
General Rules

The draw will take place on the following Monday or as soon as possible thereafter
Coupons available only in GBP/EUR/SEK (term updated 11.7.2019)
Only GMBLRS members who signed up before or during the active week are eligible for the raffle
Screenshots must be from the currently running qualification week showing the casino name and date.
Only wins from REAL MONEY bets are allowed. Bonus money is fine too, however, fun or demo mode-money not.
GMBLRS reserves the right to control/end the contest and warn and/or ban all members who appear suspect to abuse or otherwise act in an unfair manner. For example but not limited: creating multi-accounts at GMBLRS, posting old screenshots, manipulating screenshots or posting someones else's screenshots.
Only people aged 18 or older can participate in the race.
The winners will be contacted personally.
Last update 12.8.2019:
At least minimum 3 participants are required
[su_guests]Join GMBLRS now![/su_guests]
Let's Play!
Your GMBLRS Team