Midnight Madness
---
A retro-journey to the 1980s awaits on the slot from Spearhead Studios, formerly GiG Gaming. Midnight Madness has a unique format with 15 stacked single-line slots immersed in a flashy neon design that was the latest trend some three decades ago. The feature-free game is something for slot purists who like a high-volatility ride with a win potential of up to 15,000 times the stake.
Slot Details
Midnight Madness is a stack of 15 slots, each with three reels and a single pay line. Wins are awarded when three matching symbols land on a line from left to right. Your journey back to the neon era on desktop or mobile will cost you 0.10 to 15 credits per spin. The RTP of this medium to high variance game is set at a flat 96%.
Although the title suggests a midnight appearance, the actual design shows a setting sun with some other blurry stuff thrown around it. No clue what the creators had in mind. The game window is in portrait mode, underlining the mobile compatibility. As expected, it all appears in neon-fluorescent colours and is accompanied by a typical electronic soundtrack from the 80s. Plus, you will have some radio talk in between that gives the slot a Top Gun scent. The movie was hugely successful in the late 1980s.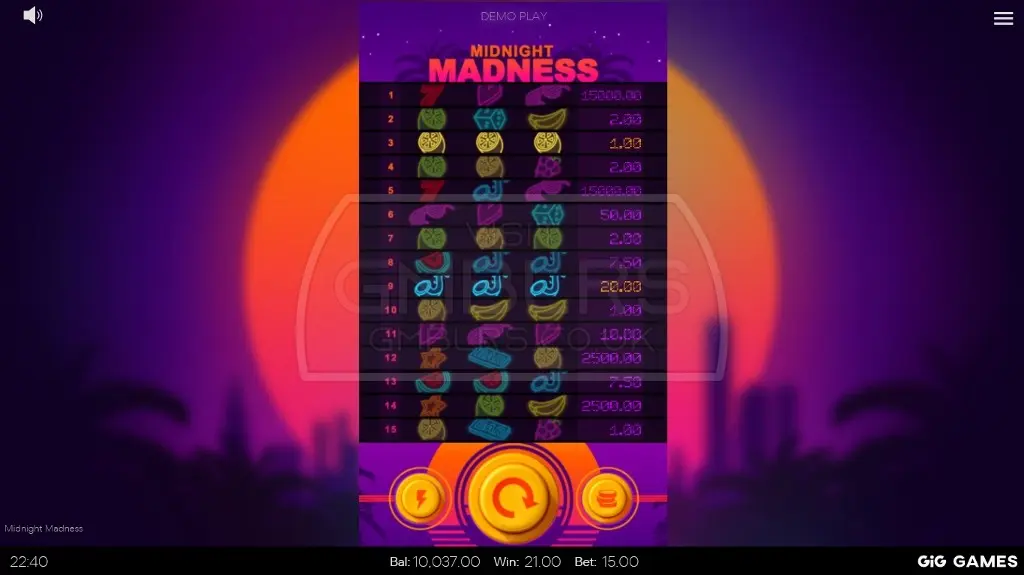 The slot has a total of 12 pay symbols in neon colours, however, no wild, bonus or scatter symbols. In ascending order they are lemons, limes, bananas, grapes, melons, hearts, saxophones, sunglasses, dice, bars, stars and sevens. Pays for a three of a kind start at 1x your bet and peak at 15,000x your stake.
Each slot spins independently in a round with the maximum bet per slot limited to 1.00 credit. Before starting to play, you will need to select whether you want to have 5, 10 or all 15 slots activated, which increases the total bet accordingly. First, reel one on each slot will stop a symbol in view that will determine what you can win on the current spin. If two matching symbols appear on reel two and three of the same slot, you will win the amount displayed on the right of the game window. And hold your breath, as here comes the adrenaline kick. If you land two matching symbols on one of the active slots, you will get a special suspense effect that will delay slightly the stop on reel three. Not that it will make a difference.
Final Verdict
Don't really know what to say about this slot as I feel I wasted already my time just writing this review. I am literally gobsmacked that someone thought stacking 15 single line slots on top of each other would be a good idea. Plus, give the game no features, which makes a mediocre slot even worse. Let's hope the team goes back to the drawing board and comes up with sometimes playable next time.
Play here
---
Please wait... Loading...