Mahjong 88
---
Get ready for a game of Mahjong on the slot from Play'n GO. The tile-based game of skill, strategy and a sprinkle of good luck made its first appearance during the Qing dynasty in medieval China. The 20th century saw it spread across Asia and as far as Europe to become an extremely popular parlour game.
Play'n GO took on the challenge to create an 8×8 grid slot around Mahjong with a whole array of bonus and random features that adapt to the four seasons of a year and can lead to wins of up to 5,000 times your stake.
Slot Details
Mahjong 88 is a video slot with an 8×8 grid and cluster pays. Wins are awarded for clusters of 4 to 12 vertically or horizontally connected matching symbols or in combination with a wild symbol. You can sit down for a round of Mahjong on desktop, mobile and tablet from 0.10 to 100 credits per spin. The default RTP of this high variance game is set at 96.62%, however, some operators might offer it at a lower setting. Check the help files after loading the game to find out which version you are playing.
Graphics and Visuals
Naturally, you can expect a Chinese theme for this slot. A flowery green tablecloth-style fabric is the background to the game grid. A wooden case that usually holds the Mahjong tiles is opening and closing in every game round to display the new set of symbols, which in itself appear as traditional Mahjong tiles. On the right, you have the Fortune Frog meter and the season display. On the left is the win display as known from other Play'n Go slots such as Rise of Olympus or Sweet Alchemy. A typical Chinese soundtrack completes an authentic slot design.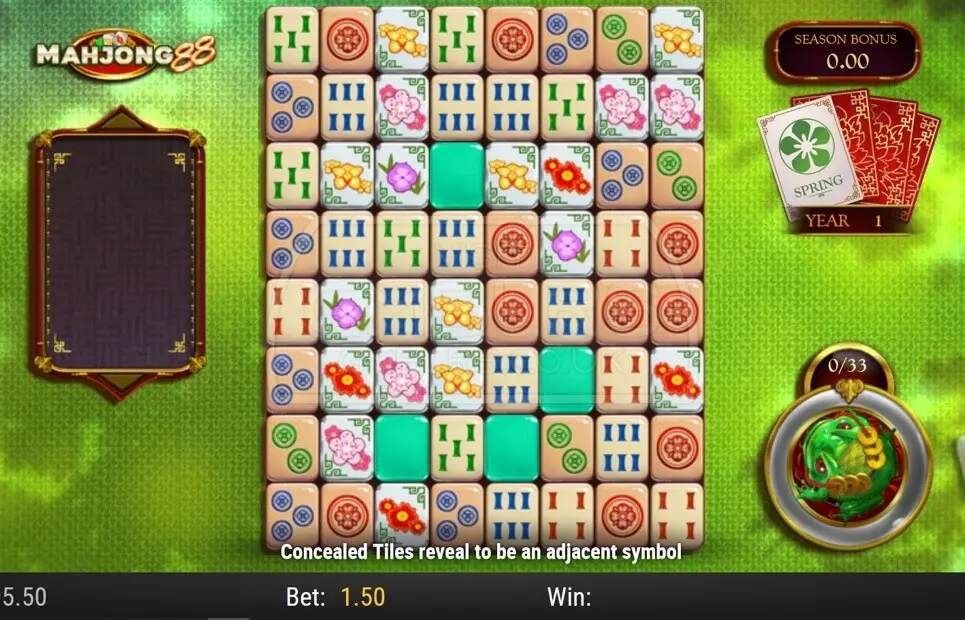 Pay Symbols
All pay symbols on Mahjong 88 were taken from the original parlour game. At the low end are the tiles with numbers one to six. A cluster of 12 symbols, which corresponds to a five of a kind on a standard slot, will pay 12x to 20x your stake. They are followed by four tiles with flower arrangements in pink, yellow, red and lotus blue colours. Wins increase to 100x to 500x your stake for clusters of 12 symbols.
Each season has its own wild symbol. Spring is a green tile with a blossoming flower, summer a yellow tile with the sun, autumn a red tile with a falling leaf and winter a blue tile with an ice crystal. They substitute for all pay symbols. There are also blank Concealed Tiles in turquoise-green colour that will transform into an adjacent pay symbol to help create a winning cluster.
Revealing Symbols and Cluster Pays
Mahjong88 is not your normal slot with spinning reels or cascading symbols. Instead, the Mahjong case holding the tiles is closing and opening at the start of every game round to reveal the 64 symbols for the new spin, which will remain stationary for the entire spin sequence. A random number of tiles will be Concealed Tiles in every round, which will flip to reveal an adjacent symbol.
To score a win, you will need to land a cluster of 4 to 12 symbols that connect vertically or horizontally. A winning cluster will be removed after the win is paid, leaving dark green and turquoise-green blank tiles in its wake. All other symbol tiles remain in place. The dark green tiles flip first to reveal a new symbol, followed by the turquoise-green Concealed Tiles which will reveal an adjacent symbol. Any new winning cluster will be again removed and the process starts all over again until no new winning cluster appears.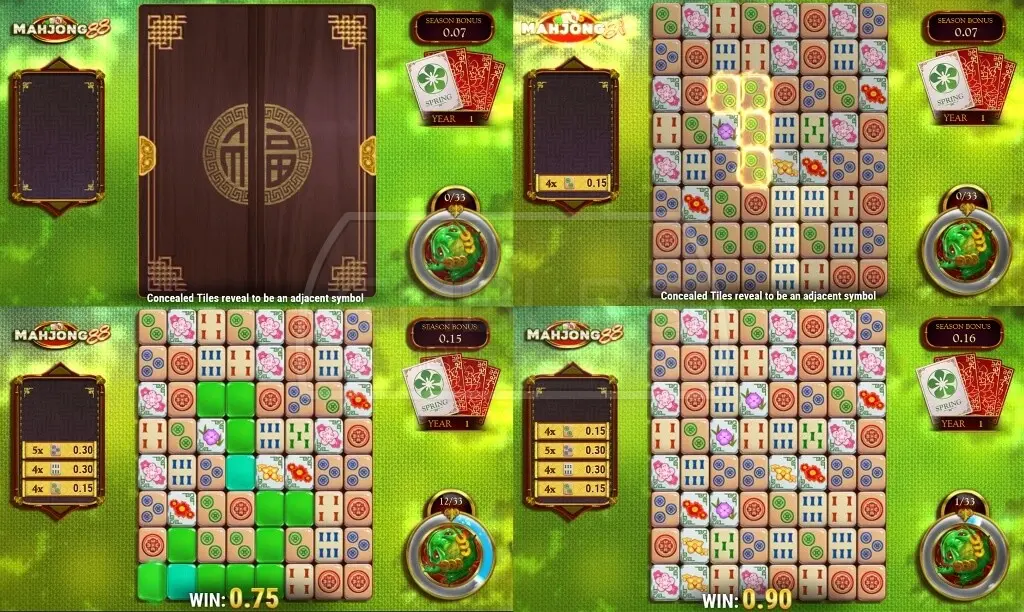 Mahjong 88 Seasons Explained
The game comes with four seasons – spring, summer, autumn or winter – each with its own wild modifier that will trigger randomly when you don't hit a winning cluster at the start of a spin sequence. Wilds substitute for all symbols and will be removed if they are part of a winning cluster or the Fortune Frog feature is activated:
Spring: up to 12 wilds are placed randomly on the grid
Summer: up to 5 wilds are randomly placed on the grid and adjacent symbols are destroyed
Autumn: up to 11 wilds can appear with symbols on the edges turning wild or getting destroyed
Winter: up to 4 sticky wilds are randomly placed on the grid, which will remain on the reels until the end of the round
The seasons will change randomly every 25 to 99 spins. A percentage of each win is added to the Season Bonus and will be paid in one amount when the season changes.
Fortune Frog Meter and Super Charge Feature
On the right of the game grid is a meter with a traditional Chinese Fortune Frog. The number of symbols in each winning cluster in one spin sequence is added to the meter. It will trigger when it reaches 33 symbols and no new winning clusters appear to apply one of four modifiers:
Croak: randomly selects one pay symbol which will pay scattered instead of the usual cluster
Spawn: randomly selects one pay symbol and transforms it into one of the other nine symbols
Tongue: randomly selects on side of the grid and touches random symbols on the way to the opposite edge. All marked symbols will flip to reveal a new symbol
Hop: randomly selects one symbol which transforms and destroys adjacent symbols
And there is one kicker that can make a huge difference to your wins. Collect 88 or more symbols in the Fortune Frog Meter to have the Super Charge unleashed, which will multiply your winnings from the entire spin sequence by x5. Only one Fortune Frog and one Super Charge can be triggered per spin sequence.
Final Verdict
Mahjong 88 feels a little like Gemix on steroids, one of the first grid games from Play'n GO that is still immensely popular today. The volatility and win potentials are tough significantly higher. I am not a real fan of Gemix, and I can't see Mahjong 88 ending up on my favourites list either. The constant flipping of tiles and the apparent similarities are too much of a strain on the eyes and that after just a few rounds. I am sure though that it will find plenty of players who like the game style.
Play here
---
Please wait... Loading...