Magic Journey
---
Travel to the Far East for an encounter with mighty deities on the slot from Pragmatic Play. Magic Journey is introducing you to Master Tang and his disciples who came to wide popularity in the 16th-century novel "Journey to the West". The game is not your standard slot, instead, you get just a 1×5 reel and a score card where you collect symbols that land on the main reel on a 3×3 grid. Collect all nine in a single spin sequence and you will be pocketing 400 times your bet.
Slot Details
Magic Journey is a video slot in a 1×5 format with a single line. Wins are awarded by collecting up to nine symbols in a series of respins. You can journey alongside the Buddhist monk on desktop and mobile from 0.20 to 100 credits per spin. The game has maximum volatility (5/5) with an RTP of 96.54%.
The visuals are all that you can expect from an Asian themed slot. A serene nature scene with a temple in the distance form the background to the unusual reel set-up with the main reel and collector grid. A range of Chinese deities and their disciples dominate the reels while a traditional Asian soundtrack played on a Chinese pipa completes the slot design.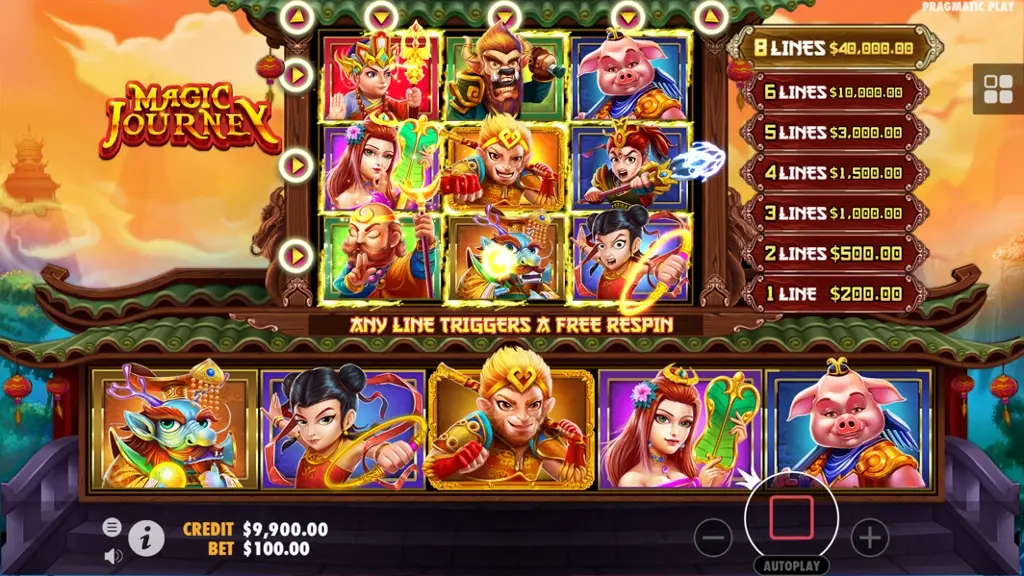 The game has a total of nine symbols which will need to be collected within a spin sequence to form a winning combo. They are Master Tang, the Buddhist monk; Sha Wujing, an exiled warrior general; Zhu Bajie, a half-pig, half-human character as well as Princess Iron Fan, Bull Demon King, Hai Long Wang and Nezha. The Monkey King serves as some sort of wild symbol that will award a respin whenever it lands.
Magic Journey Slot Features
Well, there isn't much to report as the gameplay is a simple accumulator process to collect as many symbols as possible within a spin sequence. A round starts with a spin of the bottom reel and any symbols landing will be marked on the score grid on top. Filling one of the eight lines on the grid will trigger a free respin. A Monkey Warrior symbol will also award a respin even when no line is completed on the scorecard.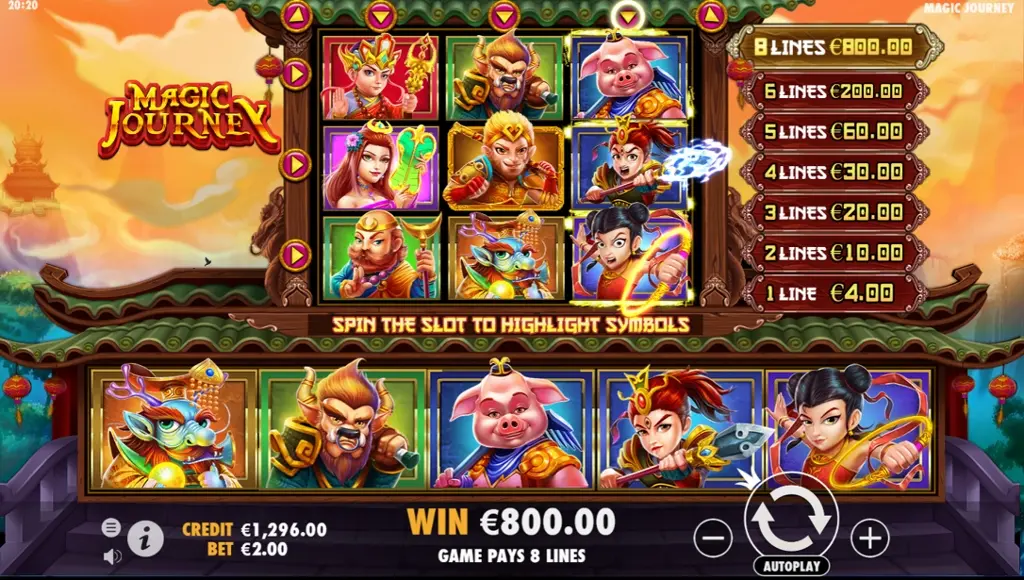 The respins continue until either no further respins are triggered or all eight lines are completed. Once the dust settles, the game will award wins from 2x to 400x your bet for completing one to eight lines. The scorecard is then reset before the next round starts.
Final Verdict
And here we thought we'd seen it all yet Pragmatic Play managed to surprise us with something new. Question is only whether it was a pleasant surprise. We played the slot for over an hour to get a feel, well, we didn't feel it. There is little to excite in the gameplay and it all boils down to a grind through endless respins that ultimately lead nowhere and all you have then is a consolation prize for completing one or two lines. Not sure whether this concept will excite slot players but I guess, only time will tell when it is released on 16th January 2020.
Play here
---
Please wait... Loading...