Tower Tumble
---
Climb to the top of the tower on the slot from Relax Gaming to rescue the princess and collect your royal reward. Tower Tumble will take you to a faraway fairy tale land on a magical game grid with cascading symbols, four elemental powers and a choice of three free spin modes that can lead to wins of up to 5,150 times your bet.
The game is the second in the Tumble series coming from Relax Gaming and while on Temple Tumble Megaways they made use of the game engine under a licence from Big Time Gaming, they opted on this creation for a straight grid slot. Tumbling symbols forming winning combinations will gradually uncover more symbols and trigger the free spins if all stone tiles are destroyed. A simple yet suspenseful mechanic that is not completely new but seems to work extremely well on this slot.
Slot Details
Tower Tumble is a cascading grid slot in a 6×6 format with cluster pays. Wins are awarded for three or more matching symbols landing adjacent horizontally or vertically. Your quest to climb to the top of the tower on desktop or mobile starts at 0.10 credits and peaks at 100 credits per spin. The game has medium to high volatility with an RTP of 96.11%.
A fantasy nature scene with abstract tree forms is in the background of the stone-encased game window while the fabled tower that the hero will climb in the free spins is visible in the distance. Four elemental powers will come to his aid when they are unleashed during a spin and will add wilds or modify the grid. An acoustic orchestra piece is accompanied by stone crushing noises when winning cluster land on the reels.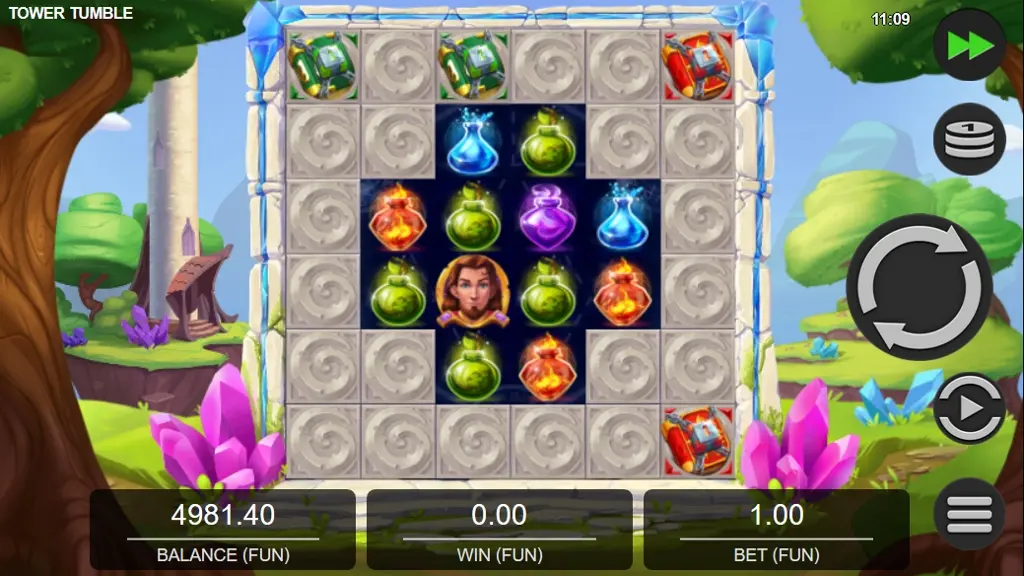 At the low end of the paytable are four potion vials in blue, green, flaming red and purple colours representing the four elements –  water, earth, fire and air. Hit a six adjacent on the grid, either horizontally or vertically, will award 6x to 8x your stake. They are followed by the cursed princess and the hero who is destined to rescue her from her confinement in the tower. A six of a kind will yield 20x and 30x your bet respectively.
A bright icon marked with 'W' is the wild symbol, sustituting for all pay symbols. It is also the top payer with 100x your stake when six land adjacent on the reels. There are no scatters on this slot.
Tumbling Reel Mechanic and Cascading Symbols Explained
At the beginning of every spin in the base game, 12 symbols tumble in a 2-4-4-2 cross pattern onto the game grid.  All other 24 positions along the edges are covered stone tiles. From those, 1 to 5 will appear as Elemental tiles marked by a locked magic tome, while the remaining 19 to 23 are blocker tiles.
Any matching combinations of three or more adjacent symbols horizontally or vertically award a win. All winning symbols will explode while the remaining symbols fall down and new ones fall in from the top to fill the gaps, potentially leading to more wins. The cascades are repeated until there are no more wins.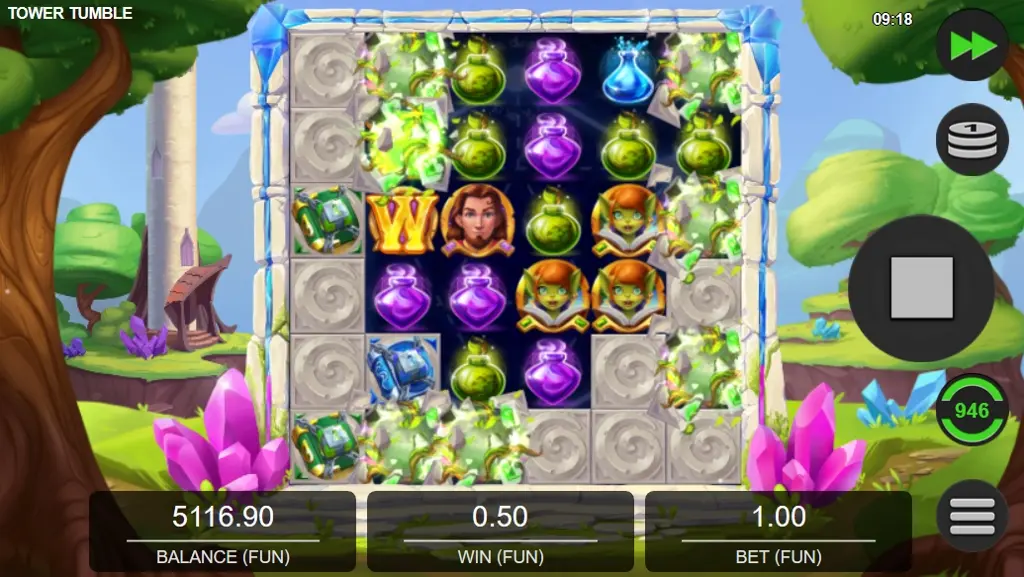 Blocker tiles directly to the left, right, above or below winning symbols also get destroyed, revealing a normal or a wild symbol behind them. At the same time, if any of the adjacent tiles is an Elemental tile they are activated but remain undestroyed on the grid. Once all wins from a cascade are paid, the Elemental tiles will apply their respective modifier.
Water – Blue Tome: Two to five random wilds are placed on uncovered positions expect on top of existing wilds.
Air – Purple Tome: A diagonal path of wild symbols is created, starting from the position of the activated elemental tile.
Fire – Blazing Red Tome: A number of symbols in view are all transformed into the same symbol.
Earth – Green Tome: Four to six blocker tiles are destroyed, uncovering more grid positions.
A spin sequence continues as long as you score new wins after a fresh tumble. Unblocking all covered stone tiles will trigger the free spins while in any other case the accumulated wins are paid before the start of the next spin sequence where the uncovered tiles are reset to the default.
Tower Tumble Slot Features
Get ready to climb the tower the soon you uncover all blocker tiles in a single spin sequence. The game will lead to a second screen to offer you three Free Spin modes. You can make your pick on every trigger to take either more free spins or less but with progressive win multipliers. Each comes with different volatility and number of free spins.
Low Volatility: 10 free spins with now win multipliers
Medium to High Volatility: 8 free spins plus the win multiplier increases by x1 on every second tower level
High Volatility: 5 free spins plus the win multiplier increases by x1 on every reached tower level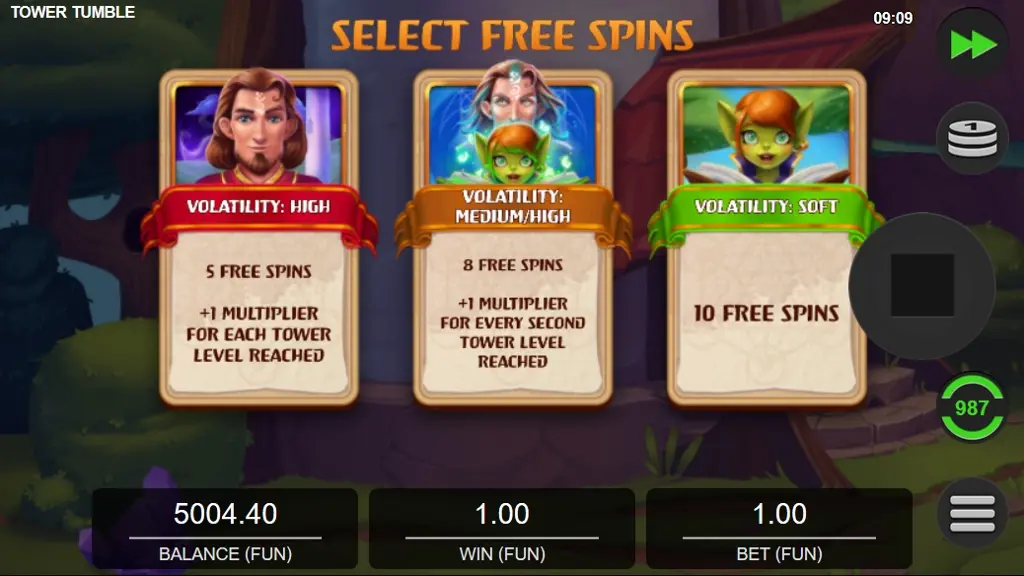 The round will start once you confirm your selection. The free spins are played in the same fashion as in the base game but the symbol pattern is extended to a 4×4 format with 16 symbols while the edge tiles are wooden blocker tiles or Elemental tiles. The aim is to destroy all tiles to advance to the next tower level.
The game grid does not reset at the end of a free spin, instead, all uncovered positions are kept while you get another chance to unlock the remaining wooden blocks in the next free spin by scoring winning combination adjacent to them. Destroy all blocker tiles and you will ascend to the next level and the free spin counter is reset to the triggered number based on which mode you have selected.
Choosing the medium/high or high options will also see the win multiplier increase by x1 at the stated levels. The win multiplier, as well as retriggers, are unlimited. Overall, you can win 5,150x your bet in the free spins round.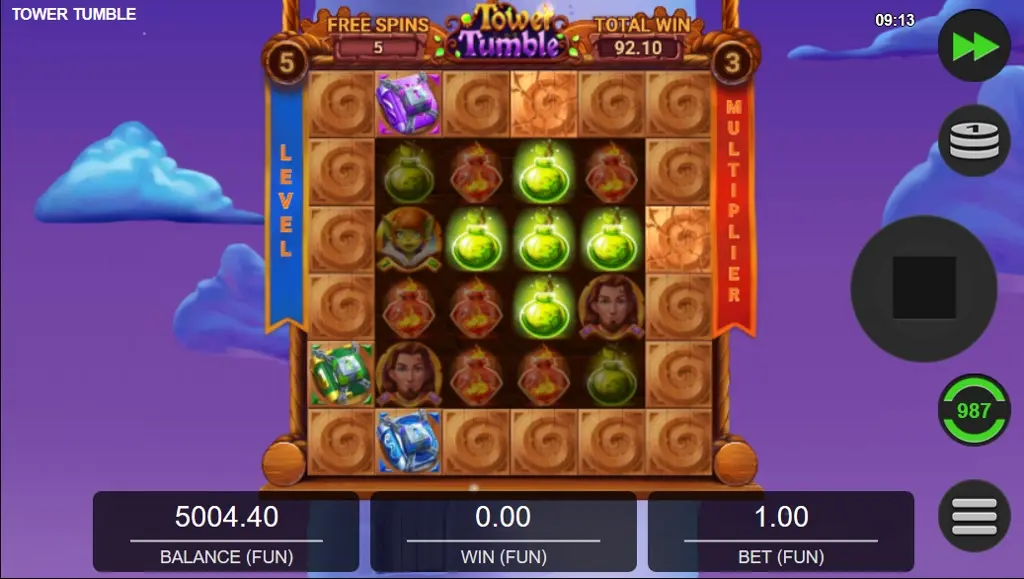 Final Verdict
Booting up Tower Tumble, we were surprised to see that Relax Gaming opted for a classic grid slot instead of using the Megaways engine. We knew all along that they would more games to the Tumble series but we anticipated that they would be based on the Megaways mechanic.
That's in no way implying that Tower Tumble is not an entertaining game because it is, just different from Temple Tumble. The free spins seem to trigger often enough to keep us in suspense. We tried repeatedly all three modes and agree between us that the second option looked like the best feature, combining a higher number of free spins with win multipliers.
Play here
---
Please wait... Loading...