---
Interview with Henry McLean – Co-Founder, Commercial & Marketing Director at 4ThePlayer
Having been founded in 2018 only, 4ThePlayer might be seen as a young game studio but looking behind the scenes uncovers decades of experience in the iGaming universe. The founders were the original team behind iconic Ash Gaming who later became part of Playtech. They are now on to a new challenge to create exciting and innovative video slots and table games for the players as in 4ThePlayer.
The first game releases have proven that even after such a long time in the industry, the founders are still bursting with ideas for new games while also hiring new talent to provide that cutting edge a developer needs to be successful in the fast-evolving world of iGaming. Four creations are already live in countless casino lobbies thanks to strategic distribution partnerships with major platforms. And with two new slot creations being readied for release, it was the best time to sit down with Co-Founder and Commercial & Marketing Director Henry McLean for a round of questions and chit-chat about 4ThePlayer and casino games.
---
GMBLRS: Good morning Henry. First of all, thank you for taking time out of your busy schedule for our interview. As mentioned, the core team of 4ThePlayer has a long history of working together, first at Ash Gaming and later at Playtech. Rather interesting to see that such veterans would leave the "safe haven" and set out on a new endeavour.
Could you please tell our readers a little about the events that led to the foundation of 4ThePlayers? Did you meet in a pub and just jotted it all down on a beer cap or was there a long planning process?
Henry: Thank you for having me! Interesting question and one a lot of my friends asked me 'why on earth would you jump back to a startup'. The reason for all of us is quite simple, we saw a big gap in the market for a games provider that was player-centric. We all have a real passion for what we do and wanted to fill that gap in a way we wanted to do it. Being a startup we can be super agile and test things and change things without having to move a massive vessel if that makes sense.
GMBLRS: OK, company incorporated, offices rented, staff hired. How do you start making a slot or table game? With 10 people in a room, I imagine you will have 100 or more ideas. Could you elaborate on the process from the initial stage to the moment a game goes live in casino lobbies?

Henry: The first thing to correct you on is office rented, we don't have an office 🙂 Even before the current situation our plan from day 1 was always not to have one and be 100% remote, allowing the best global talent without the restriction or cost of an office.
Back to game development, it is a long process, each game can take over a year. The first process is to flesh out an aim for the game and a concept that we are happy with. We then think about themes that would fit the concept and how it would all fit together. We normally then make some early art concepts and put together a presentation to get feedback on the ideas before then taking it forward.
GMBLRS: Now that is a surprise, the first game developer working completely remote. How convenient, creating video slots in your pyjamas. 
In recent years, we observed a downward trend for the RTP (Return-To-Player) values of games as well as the appearance of customizable RTPs. 4ThePlayer has gone against that trend with a single RTP for each slot in the 96.50% to 97% range. That raised not just our eyebrows but that of the entire player community. Since the RTP has an impact on the casino operators' revenue, I can imagine that some would baulk at listing your creations. What have been so far the major selling points for you as Commercial Director?
Henry: The biggest selling point is we are not just a 'game factory' where you turn a handle and out pops the latest game. Each game is different with a unique entertainment-focused feature or innovation. We are also not afraid to try new things, for example, our Big Reel Portrait Mode®.
One thing I often hear after a pitch is how refreshing it is to see someone trying something new!
GMBLRS: Just one more question about the RTP. It has become an involuntary must-do exercise for informed players to open the help file of a slot before starting their session and check for the RTP value, simply because they can differ wildly with some providers. We have seen the same slot being offered at just 90.xx% up to 96.xx%, which has a significant impact on the player experience. Can you confirm that 4ThePlayer has no plans to join the customizable RTP malarkey? Maybe not forever as the industry is changing at breakneck speed, but for the foreseeable future.
Henry: All of our current games are only released with one RTP and this is clearly displayed on the splash screen in the balance diagram. No hide or seek to look for it with our games 🙂
Big Reels for More Fun
GMBLRS: That is indeed refreshing to see that a game provider is not hiding the RTP in the small print. All of us here at GMBLRS are more or less regular mobile players. Evidently, we love your Big Reel Portrait Mode®. Can you explain in a little more detail the concept and benefits to our readers?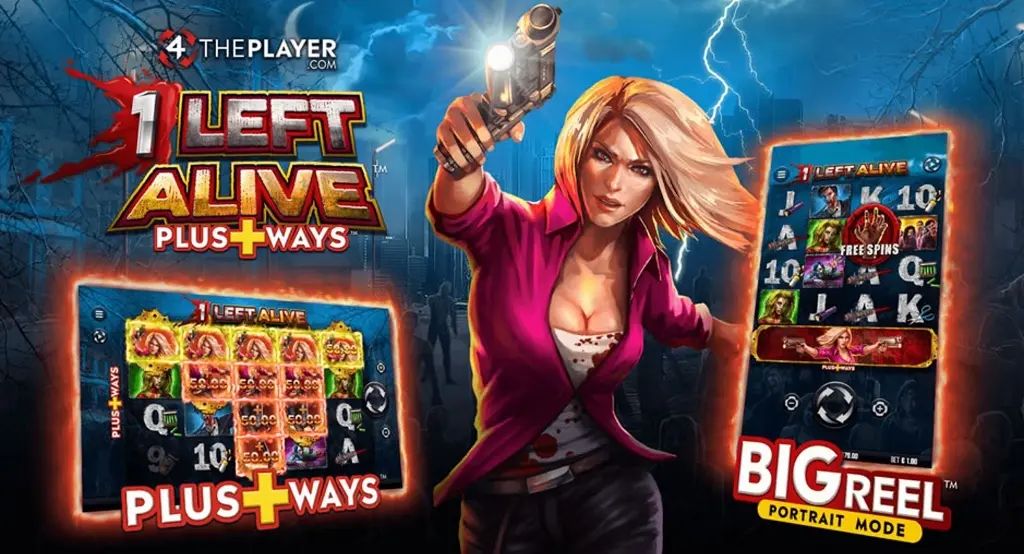 Henry: If they love mobile they will LOVE Big Reel Portrait Mode®! It makes portrait play fun again by using over 60% of the mobile screen, by rotating the reels and spinning them right to left. This makes the gameplay immersive and captivating despite playing in portrait – something that has never been done before or if it was another orientation (for example landscape or desktop) suffered.
GMBLRS: 9K Yeti and 1 Left Alive were the first two creations to hit casino lobbies in 2019. Our research has shown that they were very well received in the player community. Did the performance match or exceed your expectations?
Henry: Thank you for saying so, yes they have done very well. I know this sounds slightly modest but I had a good feeling about these two,  I knew we were onto a good thing when we released them. They both have the magic formula of innovation, entertainment, great graphics and solid math.
We are especially pleased with 9k Yeti that game has taken casinos by storm and was even rated as one of the top games of 2019. We have a feeling 9k Yeti is one of those games that will be around for years to come. Also, at Christmas watch out for Santa 9k Yeti – it's exactly the same game just the Yeti decided to get all seasonal and whip out his Santa Hat.
GMBLRS: You introduced your own Plus+Ways mechanic on 1 Left Alive, delivering an extra 32,768 ways in addition to the 1,024 ways. It sure looks impressive when it unfolds on the game screen but the workings confused some players, especially the less experienced ones. Can you explain the idea behind the mechanic and how it impacts the gameplay?
Henry: Sure, the idea behind Plus+Ways is that you get the same payout for every symbol that makes up the win again. Each symbol is clearly raised to show its part of the win. The reason behind it is we wanted to create a ways slot with WILDS and traditionally this is very hard to do so we created a new mechanic to do it.
New Reels Rolling into Casino Lobbies
GMBLRS: 4ThePlayer is in the final stages for the release of their next two slot creations – 2 Gods: Zeus vs Thor on Yggdrasil's YGS Partners platform and 6 Wild Sharks on Relax Gaming's Silver Bullet platform. While we have extensively reviewed both at GMBLRS, could you tell us more about the idea behind the games, the making, and the unique features on each?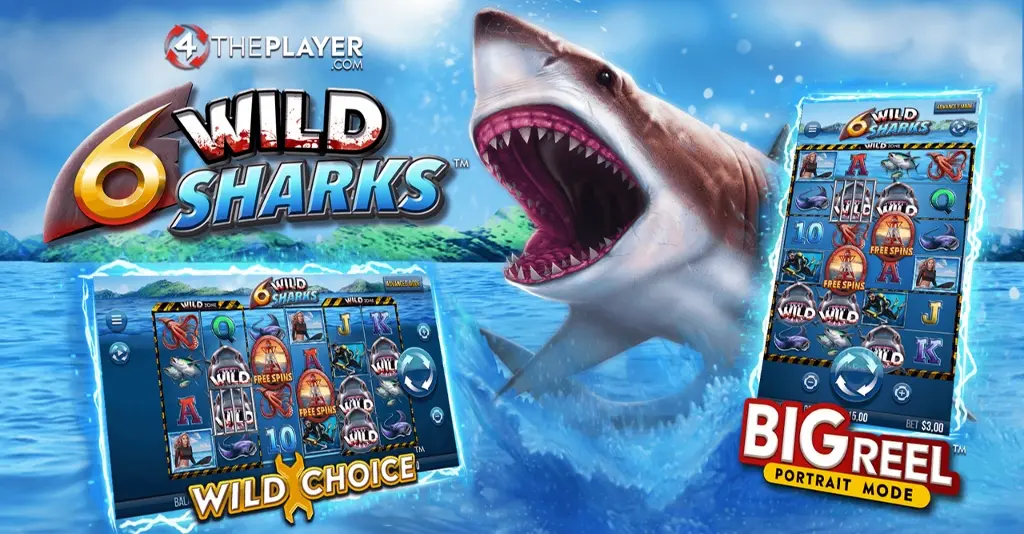 Henry: Yes, we are extremely excited about the launch, not long to go!
Both games have new features, 6 Wild Sharks allows the player to control their own volatility of the game by either trading free spins for locked wilds or by buying locked wilds on the reels in advanced mode. The bonus gives you 15 free spins, but you can trade them and decide exactly how volatile you want it, with over 14,900 different configurations the possibilities are immense. 
2 Gods Zeus Vs Thor introduces a world-first DUAL SPIN™ that gives the player the chance to double their win on every spin. All they need to do is pick a spin button and if a win matches that colour it is doubled. We also use the DUAL SPIN™ in the Win Spins bonus, where the player guesses the colour of every win – if they guess correctly the multiplier goes up. The best part is the multiplier does not go down for incorrect guesses just up for correct guessing, creating a powerful bonus round.
No Reels, but Big Win Potential
GMBLRS: 4ThePlayer has also taken on the challenge to develop innovative table games. As GMBLRS is currently focussed on slot reviews, this would be a perfect moment for you to pitch 1000X Busta and 100BIT Dice to us and our readers.
Henry: 100 Bit Dice and 1000X BUSTA are games inspired by the booming crypto market but have been given the 4ThePlayer treatment and brought into the real money casino market.
Meaning you can play these games in any casino for real money, you do not need cryptocurrency. The games themselves are both table style games that allow simple bets with a ton of supporting data and autoplay strategies. On 100 Bit Dice, you are basically betting on the roll of a 'bit dice', in 1000X BUSTA you are betting on a raising multiplier – if the multiplier hits your target you win.
Reels in the Making
GMBLRS: Without disclosing too much, could you give us a short preview about the next projects that are in the works at 4ThePlayer?
Henry: We have quite a few exciting games in the lab right now, in fact, one more game to come in 2020! The next game is a twist on cascading games – I can't wait till I can tell you more.
GMBLRS: That leads us to the next question. Are you usually flying blind when starting the development of a new game or are you pitching the idea/first designs to some casino operators and your distribution partners before committing to the production?
Henry: We are very fortunately placed as we have a very big 'black book' of industry contacts so often bounce ideas of some of the biggest names in gaming. However we are also very active on player forums and streams so absorb a lot about what players actually want and what they find frustrating, for example, if we are watching a stream and they are all talking about a feature they hate, we read and learn.
GMBLRS: Personally, I see NetEnt as one of the most comprehensive game providers with a catalogue of slots that covers virtually all types of players – beginners and veterans, recreational and hardcore gamers, millennials, boomers and old-school – spanning the entire volatility spectrum. While the approach is frowned upon, especially in casino forums, their success is proof that they made a good strategic decision.
To date, your slots are more at the upper end of the volatility scale. A trend we observed with numerous game providers in recent years. Are you planning to stay in that bracket or will you be toning it down for some future games? (Caveat: we at GMBLRS prefer HV games)
Henry: Our key goal is about having a memorable experience over a play session, one of the simpler ways is to deliver big wins but not the only way. You can also have games that slowly build, we want to make those experiences and then the volatility fits with that.
---
Play 4ThePlayer Slots Here

100% up to £100
Open Account
Main terms
18+ | Gamble Responsibly
Full T&C Apply
New Customers Only
| | |
| --- | --- |
| Deposit Bonus | 100% up to £100 |
| Extras | |
| No Deposit Offer | |
| Bonus available | Valid until further notice |
| Time to meet requirements | 30 days |
| Bonuscode | |
| Operator | Novigroup Limited |
| MGA licence | MGA/CRP/186/2010 |
| | |
| --- | --- |
| Max bet size | £5 |
| Max Cashout | |
| Deposit bonus | No limits |
| Extras | N/A |
| No deposit max cashout | N/A |
| Wagering Req. | |
| Deposit Bonus | 35 X Dep. & Bonus |
| Free spins | No wagering |
| Forfeitable | YES |
| Sticky Bonus | NO |
18+ | KYC verified | T&Cs apply | New UK players only | Min deposit £10 | Bonus is 100% match up to £100 | 35x wagering on deposit + bonus on selected games | Game restrictions apply | Neteller + Skrill excluded | 30 days expiry | Gamble responsibly | www.BeGambleAware.org
Open Account
---
GMBLRS: While we at GMBLRS welcome sensible regulation especially with regards to Responsible Gambling, we have recently observed a worrying trend towards overregulation. Or maybe better said misguided regulation as it often does not deal with the issues surrounding gambling in a reasonable way. How does this impact you as a game provider? Is there regulatory guidance you have to follow when developing a slot? Do you have to certify the game for each jurisdiction where it will be offered or can you use e.g. the UK certification as a so-called master licence?
Henry: We welcome regulation as you said it protects players. Every jurisdiction is different however most require the game to be certified by a test house for that market, some also require modification to meet regulatory requirements for that market.
GMBLRS: Well, that was highly informative Henry. We appreciate and thank you for your openness to answer our questions. Speaking off, here is the last one. List three of your favourite features on a slot. My personal choices are Wild Desire/Wild Storm on Immortal Romance/Thunderstruck 2; Sticky Wilds on Dead or Alive and dynamic reels such as Plus+Ways, Megaways and xWays.
Henry: Very tricky question as I have so many favourite features, can I say one of our own ha?! If so 9k Yeti's snowstorm as you never know what it will bring and turns that loss into a win. From other providers the Riot Respins feature in Punk Rocker is cool.
Thanks for taking the time to talk to me and hope you enjoy our latest releases as much as we did making them!
---
The pleasure was all ours as it gave us the opportunity to get an insight into the workings at 4ThePlayer. Very surprising to hear the remote-work approach as well as looking forward to trying the next releases the soon they hit the casino lobbies.
Let's Play!
Your GMBLRS Team
Gambling News