---
Megaways – Feature Buys & Gambles Strategies
What started in 2016 has today become an online gaming phenomenon like no other novelty making it onto a set of slot reels. The Megaways frenzy has the playing community firmly in its grip, constantly waiting in suspense to the release of the next title. BTG's strategy of licensing the game engine to other studios has paid off massively as we have now new Megaways slots being released virtually on a weekly basis. Some might not be the most original or innovative creations but most come with some unique or unseen feature that starts trending immediately on social media channels and forums.
Two of the most hotly debated items are the Feature Buy options and the Feature Gambles that are at the core of some Megaways slots from not just Big Time Gaming, but also Blueprint Gaming, Barcrest or NextGen Gaming. Ever since they made their debut, there has been a heated discussion as to what the best strategies are in using or not using the options and when, then what is the optimal path to end a slotting session on the slots with a profit. In this newsletter, we will take a closer look at both to bring some clarity as to what they exactly do and what impact they can have on our gaming experience.
The Feature Buy Option
The gimmick as I like to call it that has become mainstream lately is the option to buy direct access to the bonus round of a slot. Gone are the days where we have to wait hundreds and sometimes over a thousand spins for enough scatters to land and trigger the free spins round on a slot. Now we can buy it at the touch of a button. It will cost us upwards of 100 times our default bet size and we have seen up to 335x the bet but then we can head straight into the bonus round where mostly the largest win potential is lingering to hit the reels.
As with everything related to games of chance, buying a feature comes with a risk that the overall win won't cover the cost of buying it in the first place. The question is of course what the probability is for that to happen as we regularly see poor paying bonus rounds in normal gameplay. Well, there is always the possibility that it will happen and you end up with an overall loss.
However, slots are built with a math model that returns on average a percentage to the player, called in short RTP. It means that over a large sample of spins, usually in the billions or even trillions, the slot will produce enough wins that it will hit the RTP percentage spot on. If a slot is released with a 96% RTP, then that is where it will average out over a long period.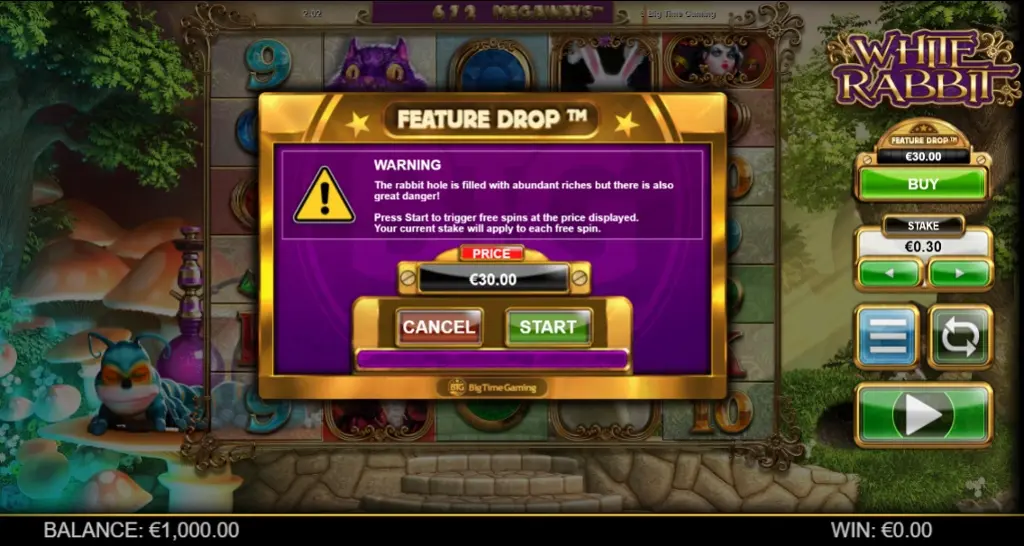 What does that mean for the Feature Buy option? Well, never spinning the reels and only buying features will give you in the long run a slightly higher RTP value. However, you can end up having a few well-paying or losing rounds in a row and for that reason we can only recommend to use the Feature Buy option with some caution as you stand to lose up to 100x your standard bet in one feature.
Obviously, it will pay something and you won't lose all of it but buying multiple feature in a row can diminish a balance much quicker than playing a slot in a normal way. In the long run though, you will have similar results with losses and wins than playing the slot in normal mode, all happens just much quicker and in each round, you will have the chance to hit a big win which will make up for the incurred losses. Our favourite for a simple feature buy slot is currently White Rabbit from Big Time Gaming.
The Feature Gamble
It gets more interesting with the latest twists game studios added to Megaways slots such as Temple of Treasure or Wolf Legend from Blueprint Gaming or Extra Chilli from Big Time Gaming. On these games, the Feature Buy Option is combined with a Feature Gamble. where you can further improve your bonus round or for that matter lose it or end up with a lower-value round.
We will stick to Extra Chilli as an example to explain the best strategy for this type of slot. Buying the feature will cost you at the maximum 50 times your standard bet or less. Reason for that is the coins that can land on any spin the base game, which will gradually reduce the cost for the next feature buy. It will trigger automatically when the balance reaches zero.
Now, after entering the feature you will be presented with a wheel where you can risk the won feature for a chance to win more free spins. The standard feature on Extra Chilli, when triggered with three scatters, will award 8 free spins. You can now either play the free spins or gamble to win 12, 16, 20 or 24 free spins. The first two stages will see you risk to lose the feature altogether while the last two will drop the number of free spins down to 8 and 12 respectively. The RTP in standard play is 96.15 – 96.41%, while buying and gambling the feature has an RTP of 96.26 – 96.82%.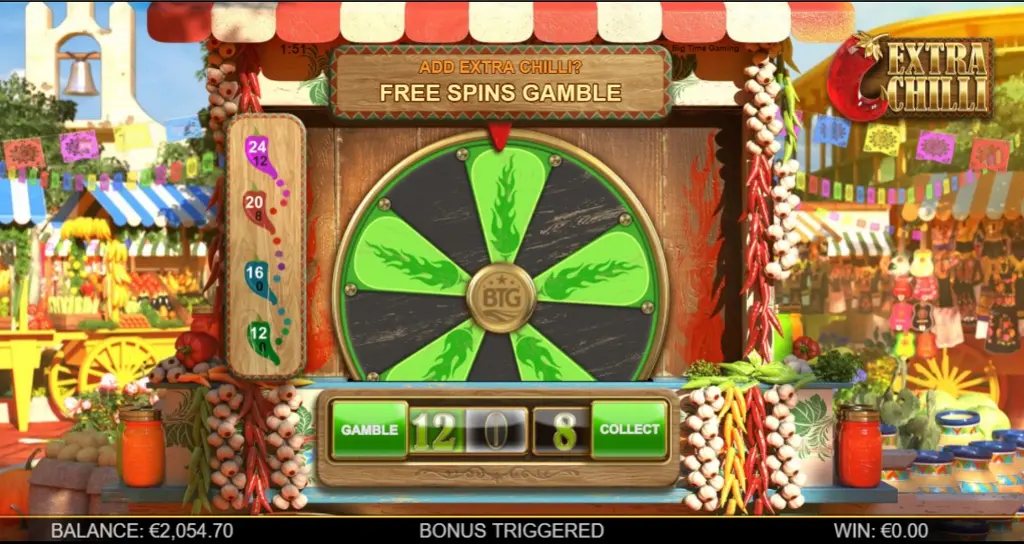 While you risk losing the feature, you will be surprised to learn that the optimal strategy is to always take the gamble. The main reason being that a round with 24 free spins has a much higher win potential than a round with just 8 free spins. Sounds logical isn't it? And indeed it is, especially because the game has a progressive multiplier that increases by x1 for each winning reaction within a spin sequence. Naturally, over 24 free spins it will reach in the absolute majority of rounds a much higher value than just with 8 free spins. Small wins can then quickly become a mega win and make up for any incurred losses.
The first gamble from 8 to 12 free spins is a 50:50 gamble while the reminder are a 60:40 gambles. Losing it a few times in a row can be devastating for a playing balance, hence, we recommend again to take the gamble with some caution and only if you feel comfortable with the extra risk.
In conclusion, it is worth taking the gamble at every occasion when you are going for the long run, while it is not recommended for an occasional flutter as you might lose it altogether. Personally, I would also take it when I am pressed for time. Buy, gamble, play it or lose it, all happens in a matter of seconds. Perfect, for a quick punt on the go when your playing budget allows it. Remember though to always gamble responsibly and avoid chasing losses.
Let's Play!
Your GMBLRS Detective
Casino Guide
Gambling News