---
ReelPlay vs NetEnt – David Pokes Goliath!
InfinityReels is not InfiniReels. Or is it? The two contenders, ReelPlay and NetEnt, have entered an agreement on 27th April 2020 to join forces in protecting their IP rights but left the main question unanswered. Not only are the names close to being an exact match but also the game engines use the same mechanic of adding a reel to the grid on a winning spin. Hence, the question that remains is – who has copied who? Or shall we call it – who has taken inspiration from the other?
In the forever ongoing quest to release the next blockbuster slot that would let the makers stand out in the immensely crowded iGaming market, developers are in a continuous race to invent new game engines and features. Given the number of over 200 slot developers, it comes as no surprise that some concepts share similarities which often lead to legal disputes as to who was first and who has the rights to the Intelectual Property.
InfinityReels vs InfiniReels is such a case which goes far beyond similar mechanics or features. To the naked eye, the two concepts are exact twins as we pointed out in our review of NetEnt's Gods of Gold InfiniReels. Case in point is that ReelPlay released their first title called El Dorado InfinityReels in December 2019, while NetEnt is not set to come out with its debut creation until 14th May 2020. In the meantime, ReelPlay added in April 2020 a second title with Giza Infinity Reels and is planning to launch a third one called Odin InfinityReels in June 2020.
At face value, the case looks clear, ReelPlay was first and NetEnt followed months later. However, not all is as straightforward as it seems. Developing a new game engine is a long process and both companies started probably as early as 2018 to work on the concepts. In fact, NetEnt trademarked its engine in September 2019, three months before ReelPlay released its first title. We do not have confirmation when the latter applied for its trademark, but it was most probably at some point in 2019 too.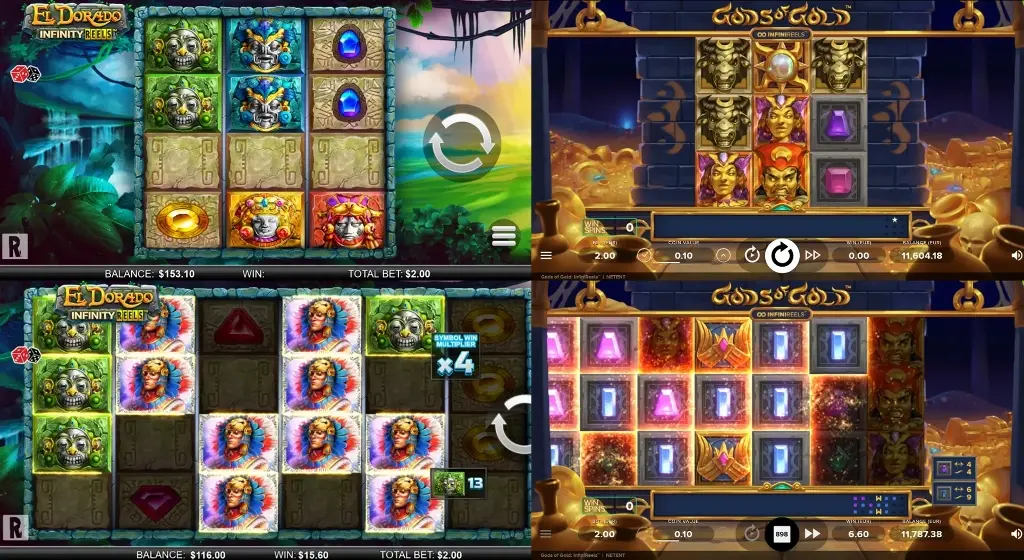 InfinityReels vs InfiniReels – what are the similarities? Both game engines start in a default layout with three reels and scoring a win will see one reel being added to the right. The new reel will spin and any further matching symbol or scatter landing, will repeat the process, ad infinitum so to speak. Hence, the name for the engines. They reset both once a spin sequence concludes. There are a few differences in the details, e.g. ReepPlay's InfinityReels has a progressive multiplier and four rows but overall the entire gameplay looks eerily similar.
The main question that arose from seeing the two game concepts was as to who will accuse the other of IP/trademark infringement. We expected a fierce legal battle because NetEnt is known to come down hard on other developers who try to copy their designs, see the case of Play'n GO's Starblast fiasco which they ended up renaming Crystal Sun.
But in an unexpected turn of events, the two companies entered an agreement "which strengthens their rights associated with their respective marks Infinity Reels and InfiniReels." Further in their press release they stated: "Under the terms of the agreement both parties will work together to extend and protect their respective franchises of Infinity Reels and InfiniReels."
In other words and reading between the lines of their statement, NetEnt did not have a clear case against ReelPlay as otherwise they would not have signed an agreement that puts the two companies on a level footing. Not in a million years. So kudos to ReelPlay who were the David in this instance. First, for having the ingenuity to develop such an engine and second for actually poking the Goliath NetEnt who had to concede by putting their name on the dotted line.
Keep Cruising,
Your GMBLRS Team
Gambling News