Age of Ice Dragons
---
Travel to a faraway kingdom for an encounter with the mighty ice dragons on the slot from Kalamba Games. Your journey into the fantasy world will be filled with accumulated wilds, free spins, and a range of missions that can lead to wins exceeding 2,000 times your stake.
Slot Details
Age of Ice Dragons is a video slot with five reels in an unusual 3-4-3-4-3 format and 40 fixed pay lines. You can face the ice dragons on desktop, mobile and tablet from 0.40 to 80 credits per spin. The RTP of this medium variance game is set in a range between 96.18% to 97.29%, depending on which missions you choose to complete.
Graphics and Visuals
A rugged mountain scene at night with the royal palace virtually carved into the rock is the backdrop to a semi-translucent game window. The ice dragons rise majestically from a giant glacier from where they will set off to terrify the people of the kingdom. Your mission will be to defeat the dragons and rescue the beautiful princess. A heroic-sounding classical piece is the main audio together with dramatic thumbs and win count noises.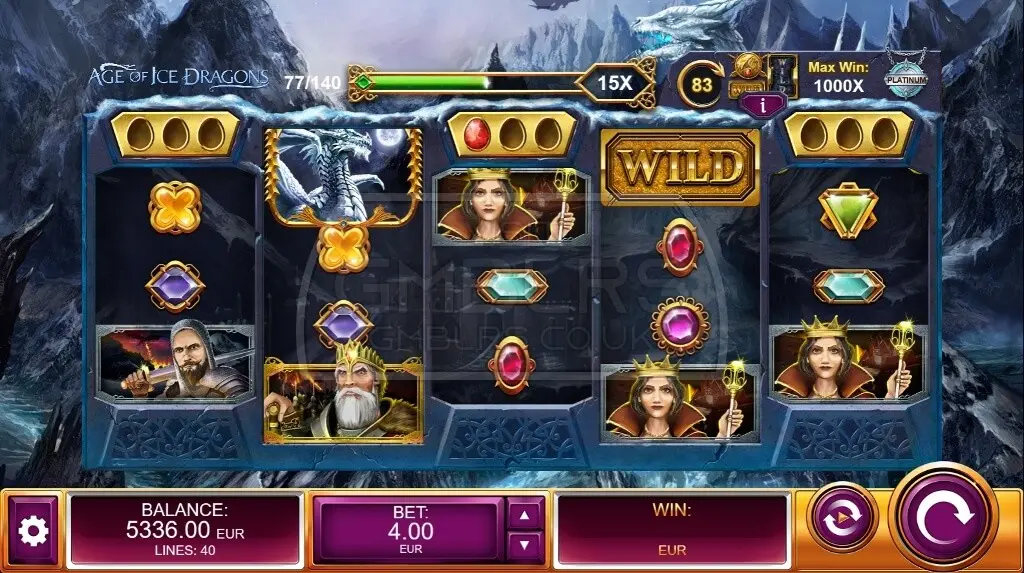 Pay Symbols
At the low end are six gem arrangements in different shapes and colours, in ascending order – green, yellow, turquoise, purple, red and pink. They all pay 1.25x your bet for a single five of a kind. Following them on the medium level are the fearless knight who set out to defeat the ice dragons, the princess he aims to rescue, the queen mother and the king. Pays for a 5OAK rise to 2.5 to 3.125x your stake. An animated ice dragon is the scatter symbol.
The wild appears in three variations. The standard version is a golden tile with the word itself across it, appearing stacked at all time. A golden dragon shield with two swords is the wild collection symbol, available on reel one, three and five only and adding to the wild meter on top of the reel. The third wild is a sticky wild reel that is awarded for completing a collection meter. Hitting five one a line will pay 6.25x bet.
The Age of Ice Dragons Missions
Before starting to play, you will have to choose your mission that can lead to extra rewards of up to 1,000x your bet. Activating them will not add any cost to your standard bet. A default mission is always active. Any mission in progress can be changed at any time before you start a spin in the base game by accessing the menu in the top right corner. The current one will be simply cancelled when you confirm the new mission.
There are three missions and four levels to choose from. It all looks complicated, to be honest, and I will try to explain it as best as possible. You first pick a mission, which is collecting a certain type of symbols over a set amount of spins. Second, you pick a level of difficulty from Bronze to Platinum with increasing numbers that need to be collected but also increasing rewards. The collection is active during the base game and free spins. Your missions are:
Medium Pay Symbols: any knight, princess, queen and king symbols landing on a spin will be collected.
Wild Symbols: all three types of wilds will be collected. A full reel will count each position. The sticky wilds in the Wild Column feature and in the free spins will be counted for each spin.
Bonus Symbols: any ice dragon scatter and extra spins symbol will be collected
You can pick any of the three missions, basically following your gut feeling. And since there is no extra cost, you don't have to worry too much about what you pick. Once you made your decision, you will have to select the level for the mission. The rewards are increasing with each level but so are the requirements and the number of spins you get to complete the missions. Remember, the spins can be base game and bonus round spins.
Bronze Level – 30 spins
collect 132 – 240 medium value symbols for rewards worth 5x to 50x your bet
collect 40 – 150 wild symbols for rewards worth 5x to 50x your bet
collect 18 – 35 bonus symbols for rewards worth 5x to 75x your bet
Silver Level – 50 spins
collect 220 – 380 medium value symbols for rewards worth 10x to 100x your bet
collect 70 – 195 wild symbols for rewards worth 10x to 100x your bet
collect 30 – 45 bonus symbols for rewards worth 10x to 100x your bet
Gold Level – 75 spins
collect 335 – 500 medium value symbols for rewards worth 12x to 400x your bet
collect 100 – 300 wild symbols for rewards worth 12x to 400x your bet
collect 45 – 70 bonus symbols for rewards worth 15x to 500x your bet
Platinum Level – 100 spins
collect 455 – 650 medium value symbols for rewards worth 15x to 1,000x your bet
collect 140 – 375 wild symbols for rewards worth 15x to 1,000x your bet
collect 60 – 90 bonus symbols for rewards worth 18x to 1,000x your bet
The Wild Column Feature
You will observe counters on top of reels one, three and five. Any wild collection symbols landing on the respective reels will be added to the counter. In the base game, you will get three spins with a wild reel after you collected three of the special wilds on a reel. In the free spins, the wild reel, or column as this provider calls it, will turn into a sticky wild reel for the remainder of the feature.
The Age Of Ice Dragons Free Spins Feature
Three dragon scatters on the centre reels will award 10 free spins, which cannot be retriggered as such but any scatter landing during the feature will add +1 free spin. There are no multipliers or other extras active in the free spins other than the sticky wild reels once you collected three special wilds per reel. All sticky wilds count towards your mission progress.
Final Verdict
The slots from Kalamba Games are becoming increasingly complex. The provider seems to be on a quest to find more and more features that tie a player down to collect something or complete a mission while playing their games. Which is not always a bad thing but at some point, I just want to spin the reels on a slot without having to think what my next step should be.
On Age of Ice Dragons, I recommend to pick missions in the mid-range as it won't be easy to complete them at all times, yet the rewards are part of the RTP. So making a wise choice with a mixture of low and high level missions should be the best strategy.
Play here
---
Please wait... Loading...