Mermaids Galore
---
Prepare for an encounter with five magical mermaids on the slot from Kalamba Games. Dip into the crystal clear waters for a reel adventure with three personal progressive jackpots, a Hyper Bonus feature buy option and a free spins round that can lead to wins exceeding 2,000 times your bet.
Slot Details
Mermaids Galore is a video slot with five reels in a 5-4-3-4-5 format and 1,200 ways to win. Pays are awarded for two to five matching symbols from left to right only. Your encounter with the mermaids on desktop, mobile or tablet starts at 0.38 credits and goes up to 180 credits per spin. The RTP of this medium variance game ranges from 94.53% to 97.52%, depending on how many gold symbols are activated and whether Hyper Bonus buy option is used.
Graphics and Visuals
The endless ocean with the sunlight protruding from the top makes for a calm and serene feeling when you load Mermaids Galore for the first time. This is further heightened by an enchanted soundtrack. Five cartoon-style mermaids dominate on the reels together with pearl clams. Two displays indicate the active gold symbols as well as the values for the personal progressive jackpots.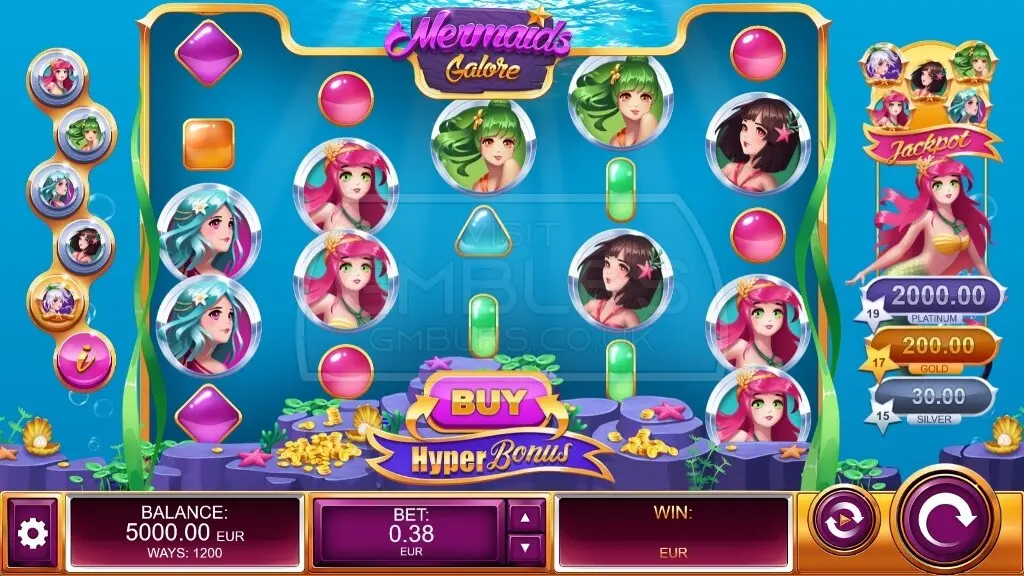 Pay Symbols
All regular pay symbols can appear stacked in the base game and free spins. At the low end, you will find six gems in different geometric shapes and colours – green, blue, turquoise, orange, purple and red. Pays for a single five a kind are equal for all low-value symbols at 0.66x your stake. They are followed by five mermaids with white, brown, turquoise, green and red hair in ascending order. All except the mermaid with white hair appear as silver or gold symbols. Pays for a 5OAK of standard mermaid symbols are again equal at 1.05x your stake. Activating the gold symbols will increase the wins to 3.3x to 6.6x your bet.
An open pearl clam is the wild symbol, substituting for all symbols bar scatters and appearing on reels two to five only. Scatters are an intricately designed game icon with the word "Bonus" across it.
Silver And Gold Mermaid Symbols
Before spinning the reels you will have to decide on whether you want to turn more silver-marked mermaid symbols into gold symbols. By default, the white-haired mermaid appears always as a gold symbol. Activating more will increase the cost per spin but also the payouts as well as the chances to win the three personal progressive jackpots.
Taking as an example the minimum bet of 0.38 in the default setting, the amount will rise to 0.58 to have two gold symbols, to 0.80 for three gold symbols, to 1.08 for four gold symbols and 1.80 credits for five gold symbols. A medium sizes bet of 1.90 in the default setting will thus increase to a whopping 9 credits, not something players will be able to do easily.
The Personal Progressive Bonus Jackpots
Mermaids Galore features the signature Bonus Jackpots the game provider has been incorporating recently in many of its slots. These are personalized progressive jackpots with a fixed percentage of 0.25% from each bet per jackpot contributing to them. To win any of the three jackpots you will need to land a defined number of golden mermaid symbols anywhere on the reels in one spin.
Silver Bonus Jackpot – 15 or 16 gold symbols to trigger: The jackpot seed is 3,000 times the total bet divided by 38, 58, 80, 108, or 180 when 1, 2, 3, 4, 5 gold symbols are played, respectively.
Gold Bonus Jackpot – 17 or 18 gold symbols to trigger: The jackpot seed is 20,000 times the total bet divided by 38, 58, 80, 108, or 180 when 1, 2, 3, 4, 5 gold symbols are played, respectively.
Platinum Bonus Jackpot – 19 or more gold symbols to trigger: The jackpot seed is 200,000 times the total bet divided by 38, 58, 80, 108, or 180 when 1, 2, 3, 4, 5 gold symbols are played, respectively.
The progressive jackpot values are stored for each player account. This is the moment where activating more gold symbols can be advantageous as it will make it easier to win the jackpots. A standard wild symbol will count as one gold symbol, while the x2 and x3 wild symbols in the free spins will count as two and three gold symbols respectively.
The Hyper Bonus Buy Feature
The Mermaids Galore slot comes also with what seems to the latest must-have for online slots, a feature buy option. It gives players direct access to the free spins round for a fixed bet amount. On this slot, you will have five options to choose from with an increasing number of gold symbols. The total cost is calculated from the default bet with no extra gold symbols activated.
51.6x the default bet: 10 free spins with only the white-haired girl as a gold symbol
79.2x the default bet: 10 free spins with two gold symbols
113.8x the default bet: 10 free spins with three gold symbols
187.4x the default bet: 10 free spins with four gold symbols
257.2x the default bet: 10 free spins with five gold symbols
Taking again the minimum bet of 0.38 credits will put the cheapest option at 19.60 credits and the most expensive option at 97.75 credits. The cost surely looks prohibitive as most low-rollers will not have the balance to fork out nearly 100 credits for a bonus round which might end with a hefty loss.
The Mermaids Galore Free Spins Feature
Other than via the Hyper Bonus feature, you can trigger 10 free spins round by hitting scatter symbols on reel one, two and three in one spin, which can be retriggered indefinitely. The round will be played with the number of gold symbols that were activated on the triggering spin. Plus, the standard wild symbol will be replaced with x2 and x2 multiplier wilds. More than one multiplier wild on a free spin will be added, not multiplied by each other.
Final Verdict
Mermaids Galore did not really excite us, mainly because of the prohibitive cost for the extra features. Neither low rollers nor the majority of medium rollers will be able to afford the extra cost in a normal session. To make matters worse, the chances to win the big jackpots are virtually non-existent if the gold symbols are not activated, forcing a player to bet more than he would be normally comfortable with.
Play here
---
Please wait... Loading...