---
The best ever winning streak on Dead or Alive 2?
Peng! Peng! Peng! Now that things have calmed down over the last week and all winnings have been received without delay, the time has come to tell the story of an immensely lucky gambling session on Dead or Alive 2 by our admin and GMBLRS co-founder Connoisseur. Sweat flowing, heart pounding yet smiling all the way, he embarked on a winning streak like no other on one of the most popular slots ever. And all that, after hitting two monster wins in the previous days.
Online gambling forums like GMBLRS are the best place to share the good, the bad and the great of our days spent at online casinos. As such we must highlight that what you are about to read is the result of an extremely lucky turn of events. Dead or Alive 2 is a very volatile slot and the High Noon Saloon Free Spins feature takes that to the extreme.
My Dead or Alive II Lucky Streak
It all started on 20th October 2020 when NetEnt released the Feature Buy version of Dead or Alive II where players can purchase direct access to the main event by placing a larger one-time bet, in this case, 66.66x the default stake. Naturally, I wanted to try it as soon as it hit casino lobbies but work kept me busy for days. A quick check in demo mode revealed that buying a bonus round would convert to €60 for a €0.90 base bet, which felt attractive as it can be often much more expensive and time consuming to chase an organic trigger. Ten days later, I finally found some time to sit down for an extended session, and boy, did that turn into something special. Here it goes…
30th October 2020: Wildz Casino – Off to a Great Start With a 12,853x Win
This is where a memorable casino journey really began. It was a Friday evening when I made a decent deposit at Wildz Casino to see whether I could hit one of those magic Wild Lines on Dead or Alive 2. And it indeed happen. I was playing on my smartphone while lying on the couch with a Netflix cooking program flickering on the TV screen initially drawing more of my attention than the slot. That changed instantly when this beauty rolled in, all but ensuring that the Netflix show must wait for another day. 😀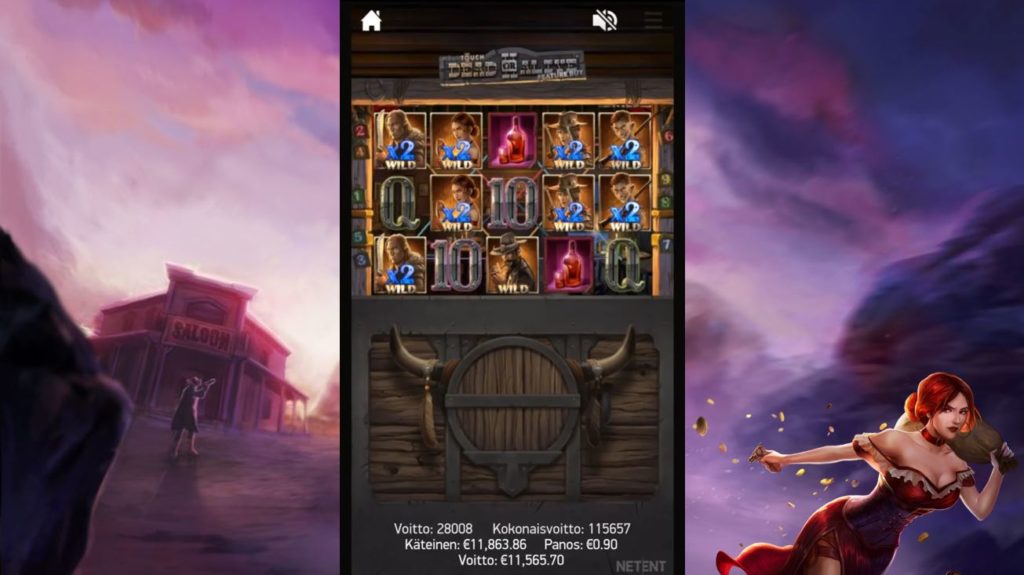 Wildz Casino – Dead or Alive 2 First Wild Line
| | | |
| --- | --- | --- |
| Date: 30.10.2020 | Casino: Wildz Casino | Feature Buy: €60 |
| Bet Size: €0.90 | Total Win: €11,565.70 | Bet Multiplier: 12,853x |
Surely, I was aware that the slot has the potential for such monster wins, but knowing how rare they are, I had my doubts whether I would ever hit one. Would I have thought that it is going to happen so soon if someone would have told me this just a few days earlier? Most probably not, but that made this moment so much sweeter.
1st November 2020: A huge 21,290x win at Galaksino!!!
Only two days later things turned from sweet to sweetilicous at Galaksino. Had I received some loyalty offer with no deposit needed and wager free, I would have happily banked €200 and the site being a Pay N Play casino would have meant that a withdrawal would be virtually instant. But no such offer came and with the €11,000 from Wildz Casino in the bank, it was an easy decision to make a deposit and give Dead or Alive II another try. It ended in an even bigger hit than on Friday.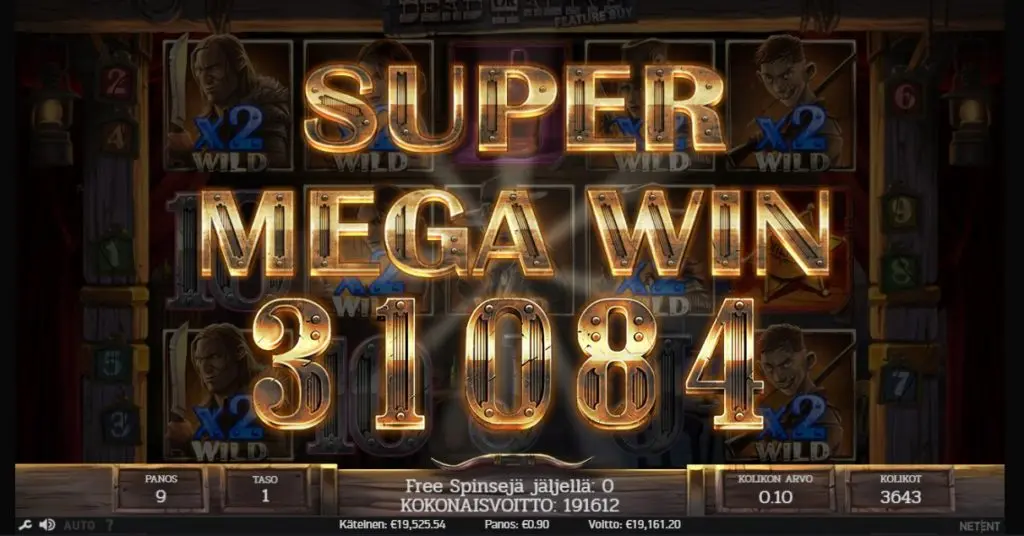 Wild Line with x16 win multiplier
| | | |
| --- | --- | --- |
| Date: 01.11.2020 | Casino: Galaksino |   |
| Bet Size: €0.90 | Total Win: €19,161,20 | Bet Multiplier: 21,290x |
2nd November 2020: Unibet – My Greatest Gaming Moments of all Time
In the wake of this remarkable weekend, jokes were making the rounds among the GMBLRS team whether someone could indeed rack up this kind of mega wins over such a short period. I certainly did not believe it until it happened and neither was I prepared for what was yet to come at Unibet just a day later.
I logged into my Unibet account to check for bonuses and found a VIP complimentary chip in my account. It came of course with wagering requirements where play on Dead or Alive 2 is restricted. Thus, some of my long-time favourites like Moon Princess took up the place and did not disappoint. Creature from the Black Lagoon was on my list too, but for some reason was not available at Unibet.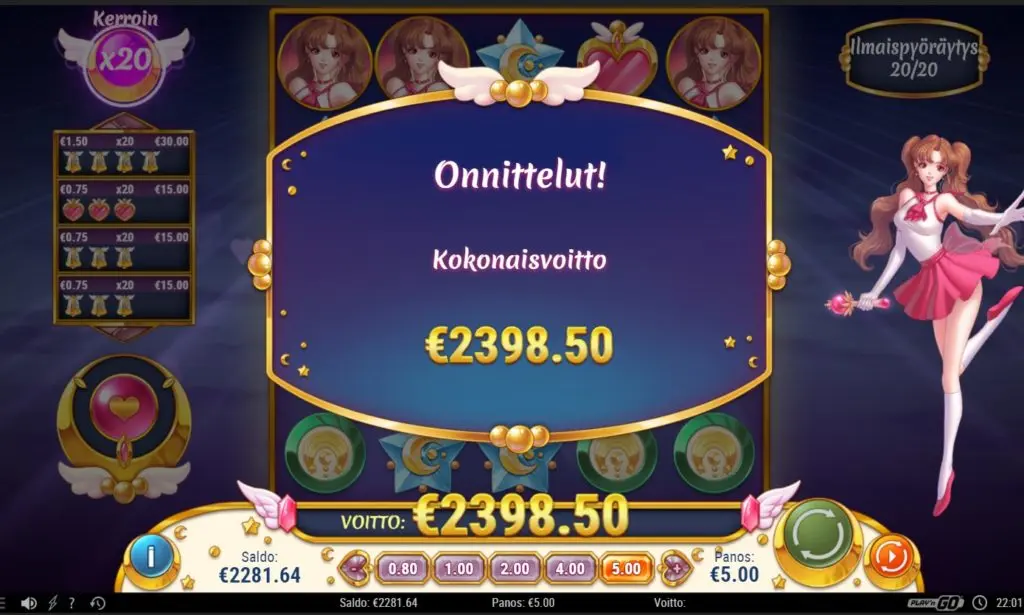 Getting started on Moon Princess
| | | |
| --- | --- | --- |
| Date: 02.11.2020 | Casino: Unibet |   |
| Bet Size: €5.00 | Total Win: €2,398.50 | Bet Multiplier: 479x |
By the time the wagering was done there were €4,000 in my casino balance. It didn't feel overly glamorous at the moment in view of the € 30,000 I had won in the previous days. Still big money, but one is easily pursued to compare in silly ways. Had I previously won just €500, these winnings would have been outstanding but if felt completely different. However, I still proceeded to withdraw the balance and make a fresh deposit into my account to stay in line with Unibet's mandatory monthly deposit/loss limits. With the withdrawal processed, the limit was reset and the new deposit indeed paid off in a big way. Brace for an incredible journey that might look unbelievable, especially since it happened in a short period of 2 hours with a total of 25 bonus buys.
3rd November 2020: Four Mega Wins With 25 Bonus Buys
Little did I know that withdrawing the winnings a day earlier and making a fresh deposit would lead to this turn of events. A total of 25 Bonus Buys and three Wild Lines as well as a mega win without achieving one but that had the potential to become a monster hit. With reported odds of hitting a Wild Line at roughly 1:200 Bonus Buys, how likely is to get three in such a short period? I would venture to say that the odds are extremely low, which makes this wins even more stunning and my bank account happy.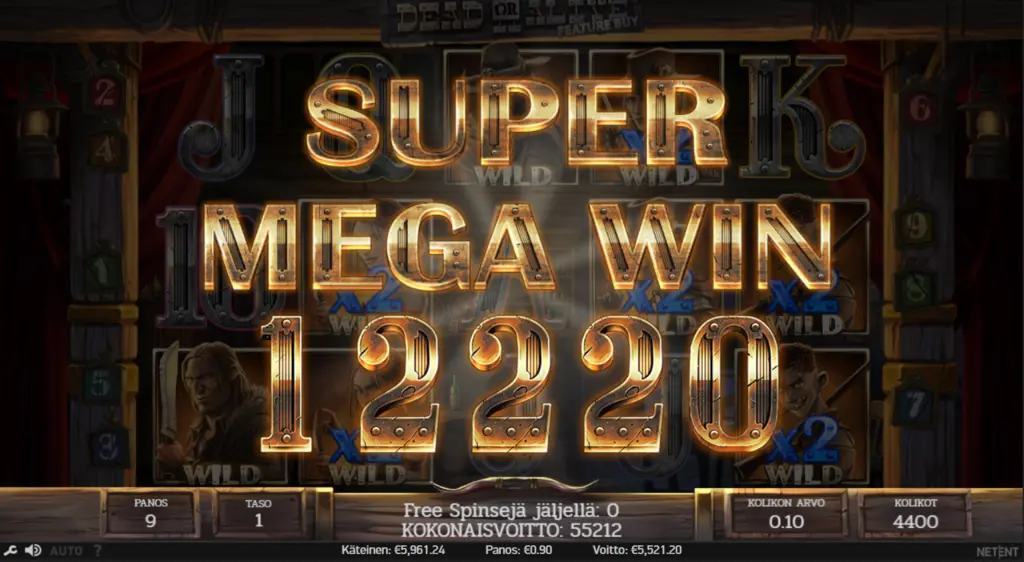 First Unibet Wild Line on Dead or Alive 2
| | | |
| --- | --- | --- |
| Date: 03.11.2020 | Casino: Unibet |   |
| Bet Size: €0.90 | Total Win: €5,521.20 | Bet Multiplier: 6,135x |
At this point, I was already laughing quite comfortably and so did my GMBLRS friends. They went even further by calling on an old saying – "strike while the iron is hot." And indeed the lucky streak continued unabated.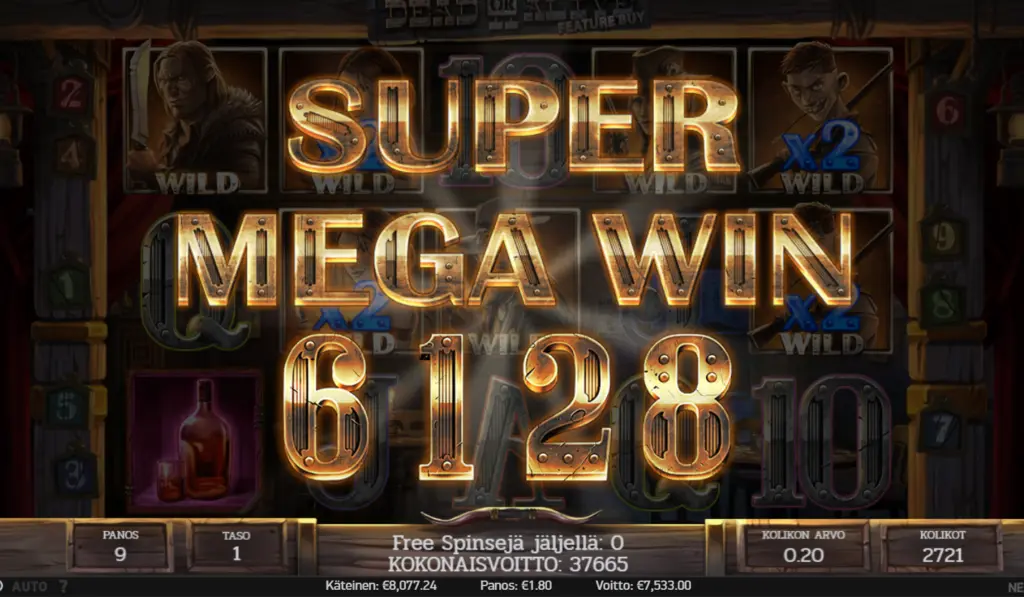 Another Mega Win with second Wild Line; Could this be true?
| | | |
| --- | --- | --- |
| Date: 03.11.2020 | Casino: Unibet |   |
| Bet Size: €1.80 | Total Win: €7,533.00 | Bet Multiplier: 4,185x |
Still laughing but also somehow fighting off creeping thoughts that maybe something could be wrong with the game and that I would never get my winnings. There were just 10 minutes between the mega wins, just enough time to cooks some eggs or get a fresh cupper.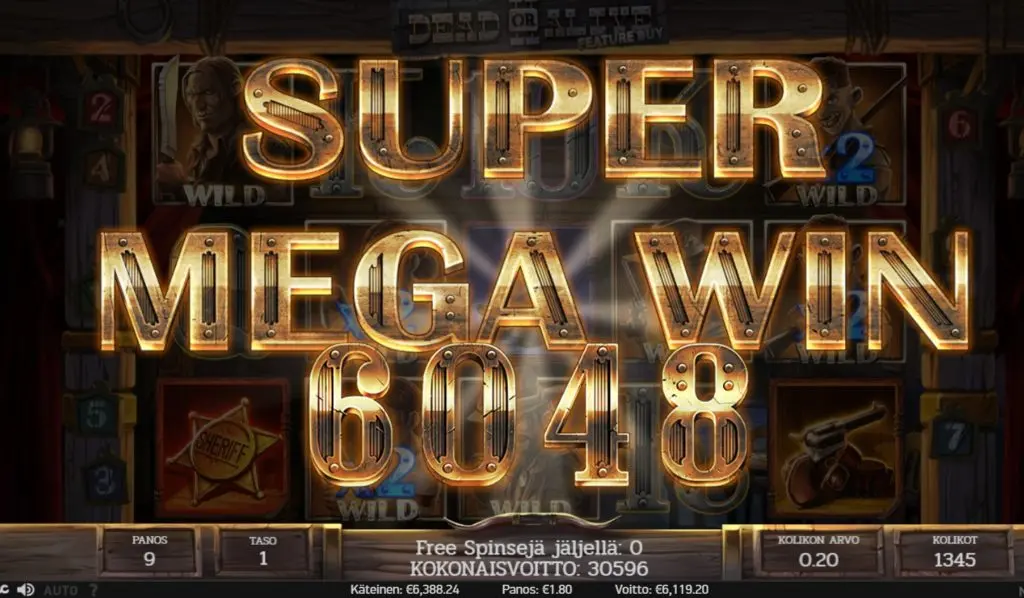 Number three – Late hit yet still unbelievable
| | | |
| --- | --- | --- |
| Date: 03.11.2020 | Casino: Unibet |   |
| Bet Size: €1.80 | Total Win: €6,119.20 | Bet Multiplier: 3,400x |
The worries only increased after this hit as I never experienced a game running this hot for such a long period. Carrying on was still the way to go, although only after drying the sweat of my hands to avoid slipping on the screenshot button as more was to come.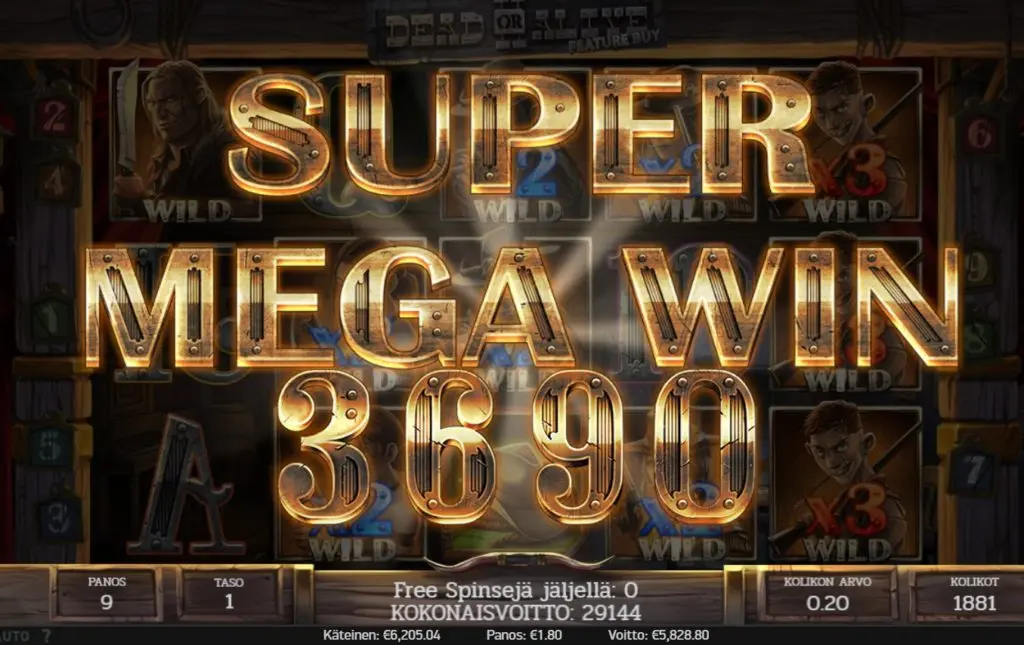 And what a miss on Number Four – A wild on top of reel 2 would have made this huge.
| | | |
| --- | --- | --- |
| Date: 30.10.2020 | Casino: Unibet |   |
| Bet Size: €1.80 | Total Win: €5,828.80 | Bet Multiplier: 3,238x |
And this was the moment the hot streak ended. No Wild Line but with the potential for an absolute monster win if only the wild on reel 2 landed on the top position plus the x24 multiplier from the sticky wilds on the screen. Big wins often lead to a lower urge to gamble again as we celebrate the moment to have overcome the odds to hit such wins. The best time to take a short break and I am still on that. Not saying that I won't have another session in the coming days but for now it is better to stay on the sideline than trying to hit a fifth Wild Line.
My thanks go to each of the three casinos who processed the substantial winnings without delay. All cashouts hit my bank account in less than 24 hours. Kudos must also go to NetEnt for what is probably the best Bonus Buy game of the year 2020.  Tough competition with the likes of Money Train 2, Deadwood and other blockbusters vying for the same spot. Overall, Dead or Alive 2 still provides the most suspense and exciting moments during bonus round.
On another note, if you are wondering as to who and what GMBLRS is. In a nutshell, I am a founding member of the site, a passionate gambler that came together with a group of friends to make GMBLRS one of the best places to find game reviews about new and upcoming slots. HarryBKK, our reviewer and content writer, has been playing at online casinos since 1997, when I was still kicking the ball in the backyard without knowing exactly what the internet is or will be one day.
You are welcome to join our GMBLRS community and become an active member by posting winning screenshots, commenting on casino and game reviews or enter a special offer in our Daily Free Spins section for all to see. Any activity will be rewarded with loyalty points which you can exchange for cash once you accumulated a sufficient number. 
Let's Play!
/Jonas a.k.a Connoisseur
Casino
Gambling News
Winning stories